I noe my previous entry is about food but i have to blog about my bowel movements now. But i shall be benevolent and replace
shit
with
poo
~ ^_^
6am
: Was woken up by a very bad stomachache. Half-awake, i trudged to the toilet and tried to
shit
poo. I struggled for about half an hour but still nothing came. Went back to sleep~
8am
: Was awoken again by the relentless pain in my stomach. Tried to poo again but still nothing came. Took some medicine to relieve the pain a little~
10am
: Tried to poo again but still to no avail. Growing desperate~
11am
: Still no
shit
poo! Getting to be very annoyed by this
"want to poo but it dowan to come out"
feeling!
11.30am
: Mum said there could be
"wind"
inside my stomach. She asked me to apply
Yu Yee Oil~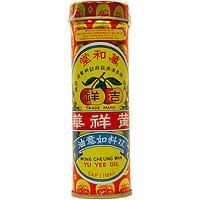 You noe this commercial where this little girl goes up to her mum and says,
"Ma, wo du zi tong! (Ma, i have stomachache!)"
, then her mum applied this Yu Yee Oil for her. After which, the scene cuts to where the girl grinned at the screen and says,
"Ma, wo shu fu duo le! Wo gang cai hai POOT le yi sheng! (Ma, i'm feeling better! I even POOT jux now!)"
Hence, this particular oil gave me some hope that it might help me induce some poo~
12pm
: Applied Yu Yee Oil and waited. Stomachache was eased by quite a lot. But i never poot like the girl in the commercial leh.
Bluff one~
3.30pm
: I thought of drinking
Yakult
or Vitagen to help me poo. I was never more desperate to poo!
5pm
: Mum bought Vitagen. Drank one bottle immediately and waited~
6.30pm
: Oh my goodness i poo-ed! But feel like only poo half leh. Other half still not out yet~
9pm
: Drank another bottle of Vitagen and waited~
11pm
: I poo-ed again! I won the struggle against the poo war! Vitagen is now officially my
shit inducer
saviour!
*
f
i
r
e
w
o
r
k
s
*
P/S: Wah lucky today no school!